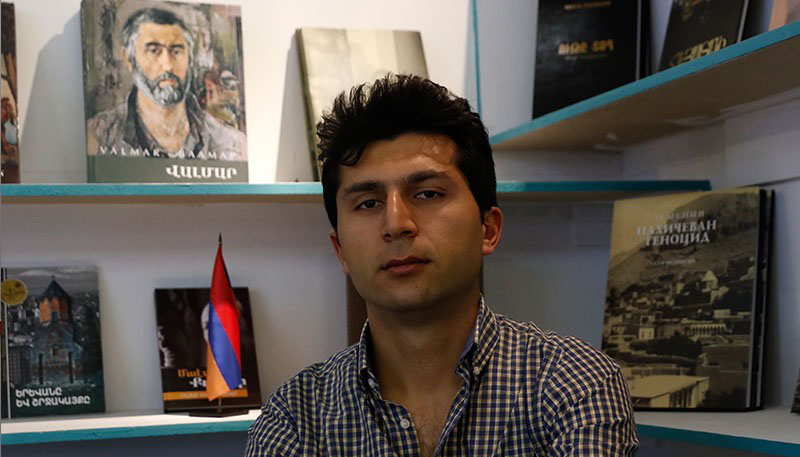 The Cultural Ministry of Armenia Prepared to Support Iranian Publishers
2018-05-12 17:43
Armen Sarkissian, coordinator of the Literary Dept. in the Cultural Ministry of Armenia announced the Grant Project of this ministry for the support of translating Armenian books into other languages. "We grant up to 20 USD per page to help foreign publishers to print Armenian works."
Sarkissian added, "We have participated in the TIBF since 2012. In deed, the Iranian publishing market has lots of attractions for Armenia and this year, we are here to present the grant project for the support of translating Armenian works in to other languages."
"In our national stand, we are showcasing books from the publishers interested in translation of their books into Persian language hoping that we will find Iranian publishers wishing to publish them," he added.
Then he continued with explanations about the national stand of Armenia in the TIBF to state, "This year, we are showcasing books the representing the culture, literature, history, children's literature and nature of Armenia."
Referring to the fact that the first edition of Yerevan International Book Fest held last year, he said, "During the last years, we just has a local fair with a few countries. But last year, we held a really international book fair. However, it cannot be compared to the TIBF and we have a long way to reach you. We hope that in a near future we reach a level to be able to host the Iranian Publishers."
Sarkissian said, "The Iranian readers are not very familiar with Armenian literature. Last year, we had a book launch for a book by Varuzhan Voskanyanin in the book fair and it was warmly welcomed by the Iranian audiences. The book is about the Armenian Genocide and translated into 23 different languages. I should say that Iranian literature is more known in Armenia. Poems by contemporary poets from Rasoul Yunan to Alireza Roshan have been translated into Armenian. Of course it is natural that in Armenia, there are more translators interested in Persian literature."
Emphasizing that the Cultural Ministry of Armenia is ready to publish collaborate with Iranian publishers interested in publication of Iranian books, he said, "We will support them. For instance, between 15 and 20 USD per page has been paid to publishers that translated and published Armenian books."
He asked the interested publishers to visit www.armlit.am of submit their request through the email grants@armlit.am.