Iranians welcome books presented by Chinese publisher
2019-05-01 19:12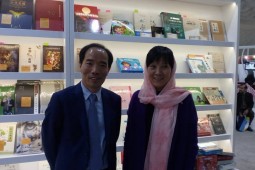 Executive Director of Central China Land Media Co. said that so many books have ‎been sold or presented to Iranian visitors in the 32nd Tehran International Book Fair ‎‎(TIBF).‎
Zhang Been also said that has held the negotiations with three Iranian publishers and stressed that Central China Land Media Co. aims to make friendships with Iranian publishers.
He said that during the 32nd
Tehran International Book Fair
they have held discussions with Iranian publishers on purchasing and selling copyrights but the negotiations have yet to be concluded.
Executive Director of Central China Land Media Co., however, said that the way is open for further negotiations which may lead to a conclusive result
He said that special discounts taken for the Iranian readership is maybe one of the reasons that the visitors have welcomed Chinese books and added that some of the books were presented to them for free.
The Chinese publishing activist pointed out that Central China Land Media Co only works with publishers within the framework of international copyright convention.
As the guest of honor of the 32nd Tehran International Book Fair, China brought a delegation of 200 members among them 100 authors, illustrators and publishers representing the active print industry of that country.